Diary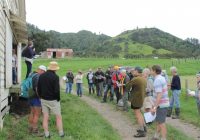 Farm foresters visit Rewanui
On Saturday 4th November 2017, around 40 farm foresters visited Rewanui, as part of their annual 'Action Groups Weekend'. 
This year the focus was on indigenous tree species, and the network of native tree trial plots at Rewanui proved a strong attraction.  The 33 trial plots containing 15 different species were planted in 2006, and have been monitored annually since then.
On Saturday the group walked the 'Natives Loop', and there was lots to see and talk about. The morning included a totara and beech pruning workshop, led by Tane's Tree Trust.
Have a look at our handouts from the event:
Following the strategic visioning process Rewanui was visited by the Lynne Patterson and Pim Borren, mayor and CEO of the Masterton District Council. They invited the foundation to make a submission to the district plan to ask for assistance in upgrading tracks on Rewanui.   The application was successful and plans are now being formed to upgrade some tracks.
About thirty stakeholders in the foundation got together in July and again in August to help in the construction of a long term strategic plan. Representatives Scion, Canterbury University, Horizons Regional council and others took part in the process.
About 4 ha of 8 year old radiata were damaged in a nor westerly gale in June 2014
Keeping the laminated sheets on the information boards throughout the trial has always been a problem. This is the latest effort to stop the wind getting at them. The clips are pieces of 15mm PVC pipe with a slot cut in them to afit over the 12mm ply board
The redwood trees in the trial blocks have had their first prune
Some of the people attending a seminar on manuka honey followed up with a visit to Rewanui, here Stuart Orme talks about our trial work to the group.
Paul Millen from the Drylands Trust conduct a workshop on pruning the demonstration plots of Eucalypts at Rewanui.
Spring at Rewanui has seen the usual variable weather with the highest wind speed (97 kph) recorded since installation of the weather station. A walker enjoys the new growth in the Kowhai creek plantings.

Saturday Sep 14th saw the return of dog trialling to Rewanui after many years. There was a good attendance at the Shepherds dog trials organised by the Tinui club.