Diary
Farm foresters visit Rewanui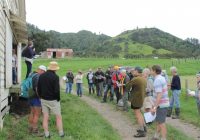 Farm foresters visit Rewanui
On Saturday 4th November 2017, around 40 farm foresters visited Rewanui, as part of their annual 'Action Groups Weekend'. 
This year the focus was on indigenous tree species, and the network of native tree trial plots at Rewanui proved a strong attraction.  The 33 trial plots containing 15 different species were planted in 2006, and have been monitored annually since then.
On Saturday the group walked the 'Natives Loop', and there was lots to see and talk about. The morning included a totara and beech pruning workshop, led by Tane's Tree Trust.
Have a look at our handouts from the event: